Countering the Ukraine invasion with free Videris access
Get the latest news and insights sent straight to your inbox
Following Russia's invasion of Ukraine, the US, EU, UK and other jurisdictions have levelled new sanctions against the Russian government and the Russian president's collaborators.
In order to implement and enforce the sanctions, government agencies around the world are working to identify the networks of sanctioned Russian individuals, entities sanctioned by extension/association, and the location of their assets. Financial institutions are also working to identify their exposure. Multinational companies face similar work to verify the integrity of their supply chain.
However, investigators will be met with significant challenges in identifying their exposure to the entities and assets against which they need to act:
Contextual data needed: A list of sanctioned individuals and entities does not tell the full story. Investigators need to look at a range of data, including corporate records, social media and search engine data, to identify the networks of sanctioned individuals and businesses, entities sanctioned by extension/association, and where organisations are at risk of exposure.
Obfuscation of ownership: Parties at risk of sanctions will already have prepared, for example by registering companies in popular locations with weak controls on economic crime, using pseudonyms and/or working through local service agents. One authoritative analysis records that at least 623 companies controlled by Russian residents have, for example, been set up in the UK since January 2021. FinCEN have also released an alert for potential sanctions evasions efforts and red flags to watch out for.
Complexity: Investigations will be complex, error-prone and time-consuming if approached manually. If sanctions are to be effective, attempts to contravene them need to be shut down quickly and effectively.
Videris can help organisations to enforce sanctions and locate assets
Single pane of glass: Videris is a complete investigations platform, allowing investigators to access, visualise and analyse all the open source data needed to understand networks of sanctioned entities in a single, secure platform.
Speed: For maximum impact, sanctions need to be enforced quickly and accurately. Videris allows investigators to map and understand complex networks in just a few clicks, making it easy to identify where people and companies are associated with sanctioned individuals or entities.
Key open source information : Sanctions data, corporate records, social media and search engine sources are included "out of the box" with Videris.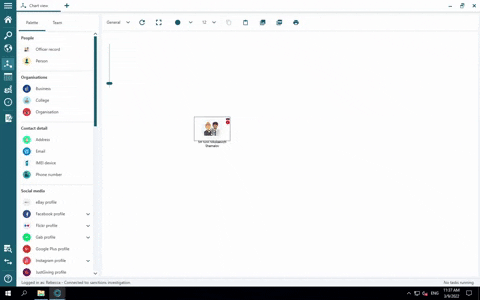 Access Videris for free
In response to today's exceptional circumstances, Blackdot Solutions is offering the opportunity to use Videris for free for three months to:
Government agencies (such as customs, tax, law enforcement or national security) with a bona fide responsibility to enforce sanctions, and
Anti-financial crime teams (FIU's, MLROs and others) in regulated banks and fintechs
Parties accessing this offer must be based in the UK, an EEA country, an EU country, Switzerland Australia, New Zealand, Canada or the USA.
The offer includes access to our advanced Videris open source investigation tool and to integrated data sources for sanctions data, corporate records, social media ( powered by ShadowDragon©) and search engine data.
Videris can be installed in a few hours and is intuitive to use.
If your organisation would like to take advantage of this offer, please contact us.
The offer will be open for a limited period. Blackdot reserves the right to limit or close this offer at any time.